How do you get a 20% discount on all products of Coral Club (Coral Club)?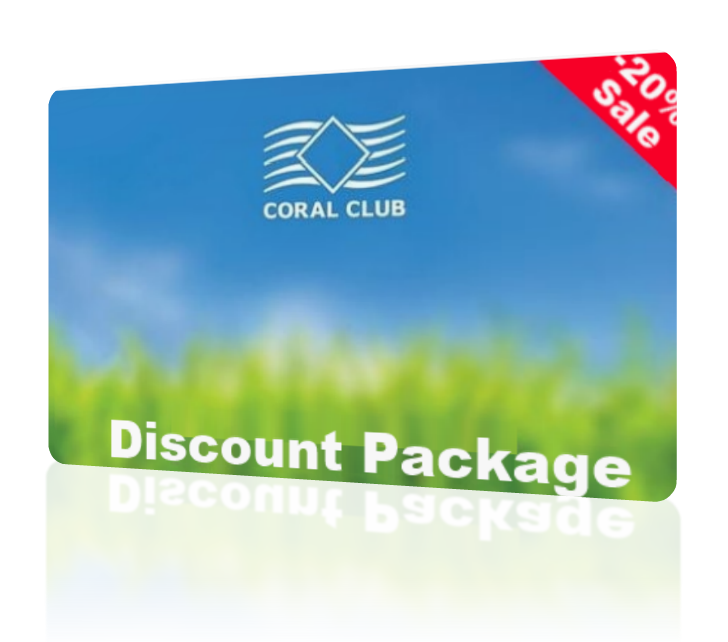 1 way.
Through our website or on one of the telephone numbers in contacts, you may need to order products. Then during the day you contact our managers for your order.
2 way.
In the sales department or online buy discount package.
IMPORTANT!
After the purchase and registration forms must arrange and pay for the first order, worth at least 12 points during the 31st day after the registration form in the sales department.
Discount cards candidates who do not meet these conditions will be canceled.
In Discount Package includes: consumer profile, price list, discount card, CD drive.
3 way.
Take the free online registration:
---
Benefits Discount Card.
1. Opportunity to buy the whole product range Coral club with 20% discount.
2. Obtaining additional bonus discount 10%, depending on the amount you accumulated balls.
In the price list, which is included in the discount package in front of each of the products are indicated balls that determine bonus discount and needed to calculate it. Calculation made ​​the percentages of points accumulated as a result of the purchase by you or on your recommendation to your club room products Coral Club. Accrued bonus discount no later than the 15th day of the following month on the account, and transferred as cash discount on products in the national currency of the country where the consumer profile was registered or distributor. Interest is accrued as the number of products you have purchased in person and on the amount of product purchased on your recommendation to your personal number member of the International Coral Club.
3. Participation in monthly promotions of the products.
Discount card is funded! But within 12 months, if you have not made ​​a purchase, then on the 13th month card, according to the marketing plan, transferred to the archive. After 12 months of inactivity, you can register a new written statement discount cards.
It is also possible to change your recommender writing a statement in the office.
What else you need to know the participants discount program?
1. The consumer is not entitled to have a few discount cards in his name.
2. With the participation of spouses, one must always be signed by the other spouse.
3. Discount card may be canceled as a result of violations of
Coral Club.
You become a member of the Coral Club! What's next?
When a newcomer comes to the company - he gets a discount from the retail price of 20%. Discount for his discount card is 10%.
As soon as a new consumer purchases products cumulative discount on his discount card counting. All products are measured in points. For example, one package Coral Main - is 15 points, a comprehensive program of cleansing the body Colo-Vada - 50 points.
If you wish, you can stay in the status of "consumer" and purchase products Coral club with maximum discount!